GIGAR - Boilers with retort burner and automatic feeding fuel system to burn anthracite or fine coal.
Gigar boilers with feeding system have a large fuel hopper andautomatic pea coal dosing on a cast iron retort burner with a screw feeder . Stands out with a high thermal efficiency, reaching 87% and very good environmental performance (ICHPW in Zabrze certificate). The advantage of this type of boiler is its easy supply of bagged coal with very good parameters. Optional installation of a DUO burner allows to burn fine coal.
Hopper can be installed on the right or left side. Its large capacity allows for refueling every 2-5 days, so that the boiler service is limited to a minimum.
Boiler is easy to use and clean, thanks to the vertical heat exchanger. Quiet operation of a NORD feeding unit makes the daily boiler operation very comfortable.
GIGAR coal boilers are equipped with ST-37 controller that precisely maintains set temperature of the boiler, controlling the operation of the fan, screw feeder, central heating and hot water pumps.
Product gallery and specifications: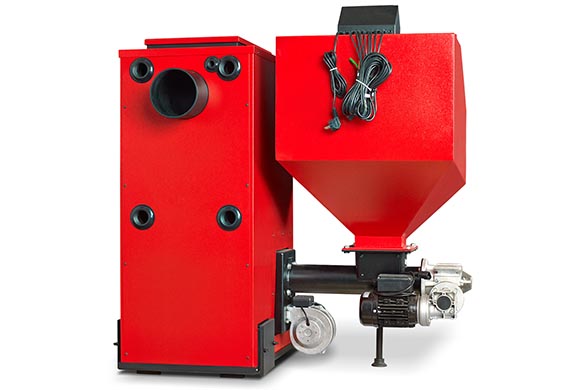 Specifications
19kW
25kW
38kW
50kW
75kW
Approximate heating area [m2]
90-140
140-230
230-350
350-480
480-730
Boiler weight [kg]
321
406
492
640
905
Water capacity [dm3]
33
55
66
108
193
Feeding chamber capacity [dm3]
175
253
253
354
354
Diameter of smoke conduit [mm]
160
160
160
220
220
H [mm]
1097
1327
1344
1452
1780
H1 [mm]
940
1180
1180
1320
1599
H2[mm]
1020
1261
1261
1399
1709
H3 [mm]
532
532
532
561
561
S [mm]
1095
1125
1147
1264
1560
Sg [mm]
1176
1195
1245
1320
1616
Sk [mm]
463
508
580
637
726
Sz [mm]
560
560
560
560
780
L [mm]
619
683
722
879
1015
L1 [mm]
870
935
990
1110
1270